Characteristics
of Ni-Ti alloys
3. Characteristics of Ni-Ti alloys
3.1 Physical properties of Ni-Ti Alloys
Typical physical property values are shown in Table 1. Since the properties of this alloy change with temperature because of the phase transformation, the values should be selected according to the situation.   As an example, Fig. 18 shows the change in electrical resistance due to the structural change of the crystal caused by the phase transformation.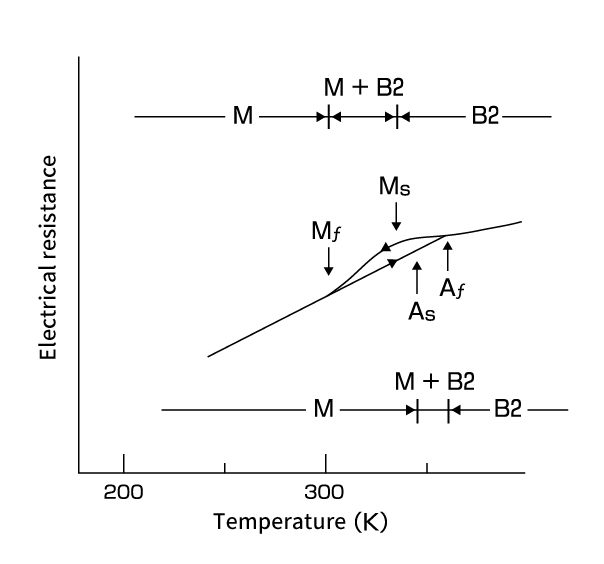 3.2 Mechanical properties
Table 2 shows the tensile strength and elongation of typical Ni-Ti alloys. The yield points, which are not shown in the table, are 50-200 MPa for the Martensite phase, 250-600 MPa for the Austenite phase, and the Young's modulus of the Austenite phase is 40-80 GPa. An example of a stress-strain curve is shown in Fig. 19. The temperature dependence of the yield point is described in Fig. 20. When the temperature exceeds the Af point, super-elasticity appears. The white circle shows the yield point at loading and the black circle shows the recovery stress at unloading.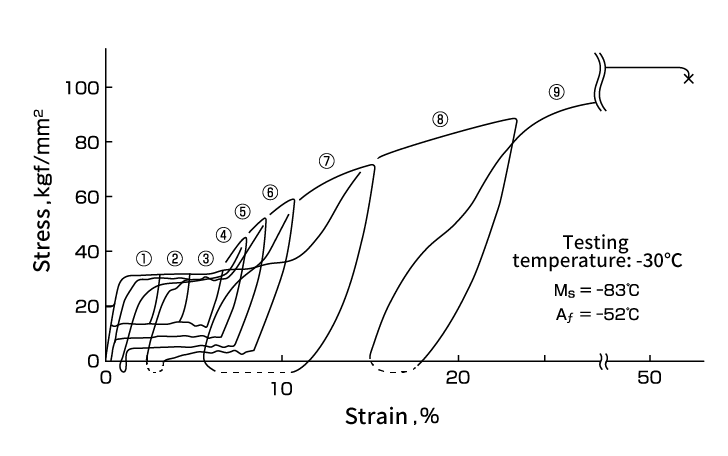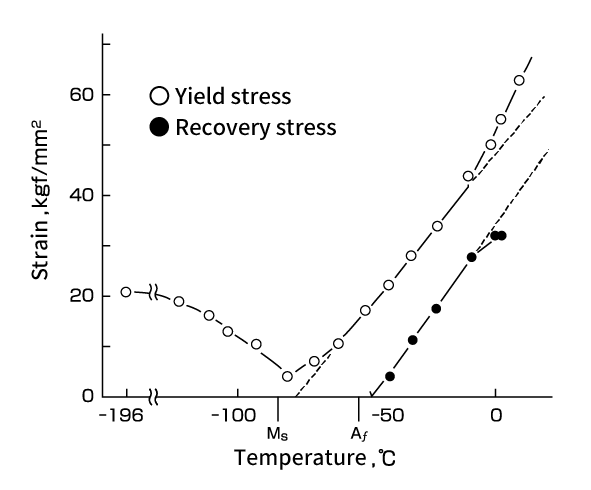 3.3  Chemical properties
The corrosion resistance of this alloy is basically excellent. However, it needs attention in special severe environments. Similar to Ti alloys, it absorbs hydrogen and becomes brittle. It is also relatively stable in seawater and salt water, but in an environment where it comes into contact with different metals, potential difference corrosion will occur, the same as with other metals, and attention should be paid.  Elution of Ni ions is equivalent to or less than that of Type 304 stainless steel, depending on the environment.  It is necessary to consider the environment in which the alloy will be used, in advance, in accordance with the application design.