Shape Memory properties of
Ni-Ti alloys
4. Shape Memory properties of Ni-Ti alloys
The transformation point (Ms) of Ni-Ti shape memory alloys is in the range of 220~320K (-53~47℃) with 50~51 atomic% of Ni, as shown in Fig. 21.  Table 3 shows the major properties of Furukawa Ni-Ti alloys.  Fig. 22 shows the temperature-displacement (shear strain) curves of a coil spring under constant load, illustrating the three transformations of Table 3(a).   The upper row shows Austenite phase → R phase, R phase → Austenite phase transformation, the middle row shows Austenite phase → O (orthorhombic) phase, O (orthorhombic) phase → Austenite phase transformation, and the lower row shows Austenite phase → Martensite phase, Martensite phase → Austenite phase transformation, respectively.  The R phase and the O(orthorhombic) phase transformation, which have a wide range of applications, are briefly mentioned in the following section.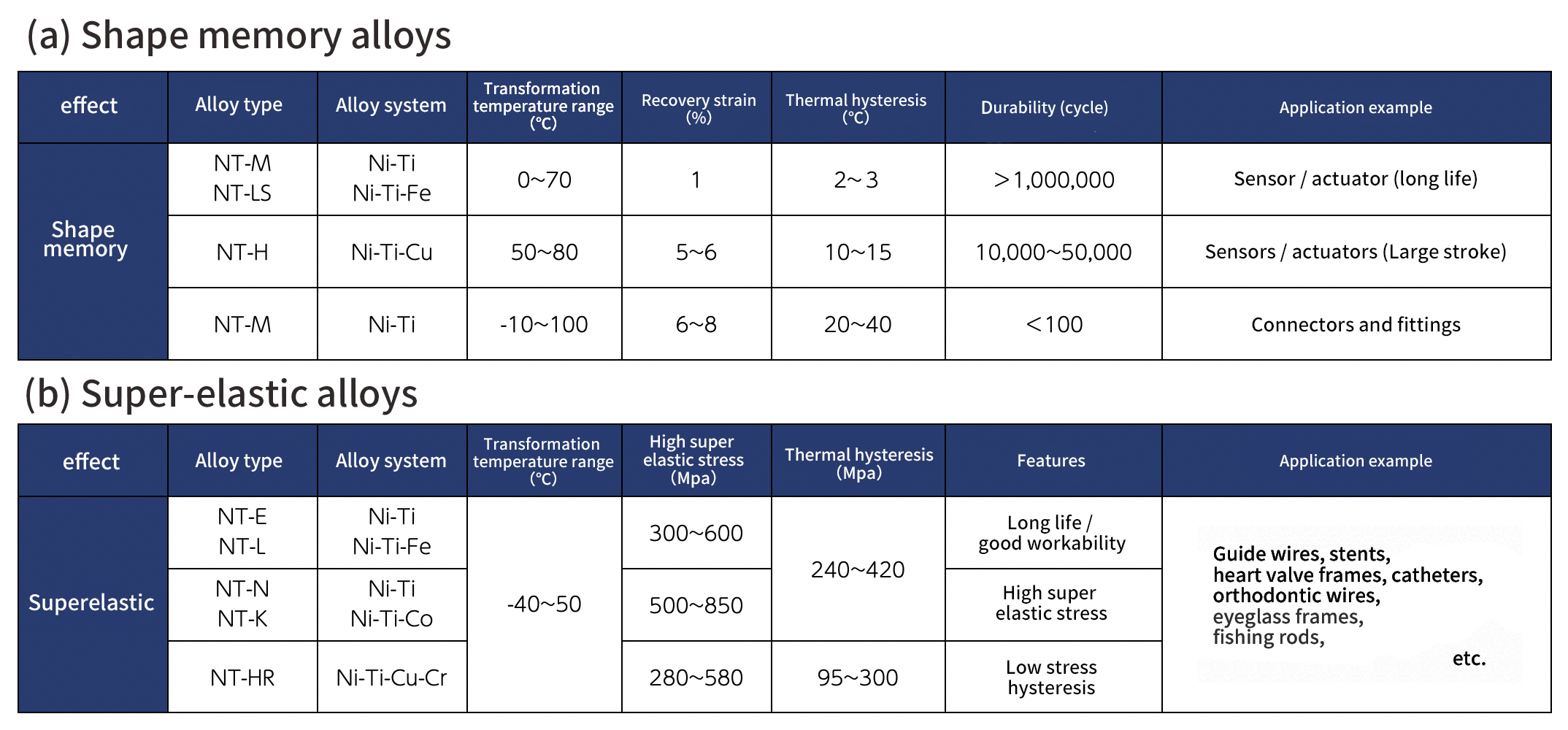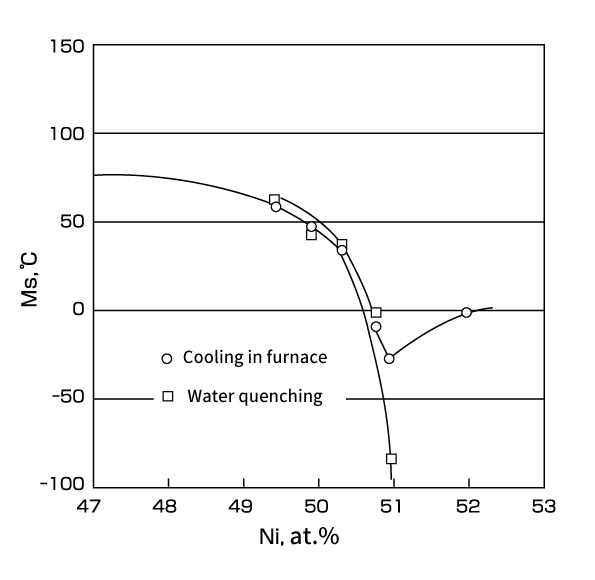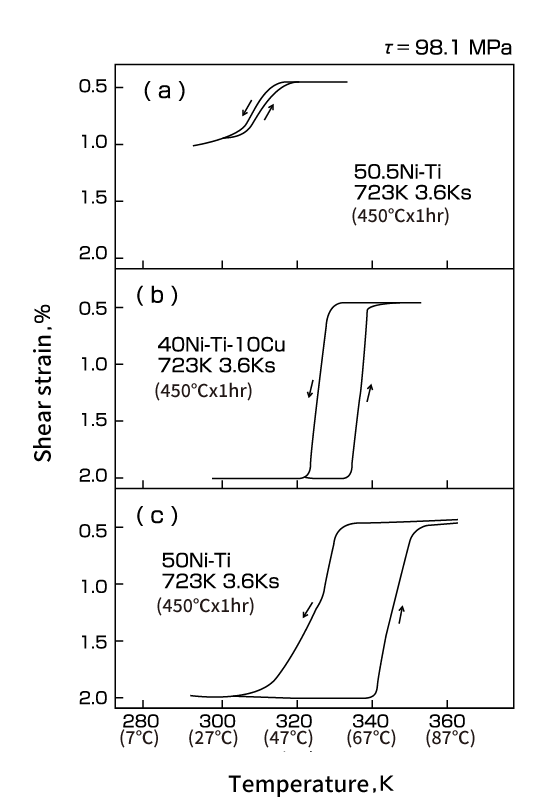 4.1 R phase transformation
In the DSC curve in Fig. 23, two peaks of heat generation appear during the cooling process. The first peak corresponds to the transformation from the parent phase (Austenite phase) to the R phase. The amount of deformation is small, less than 1% in strain. This phase transformation is the R-phase (Rhombohedral structure) transformation that appears in materials that have been heat-treated at about 400-550°C after cold working.
The second peak corresponds to the M phase (Monoclinic structure) transformation. The Austenite phase ⇔ R phase transformation has excellent cyclic properties because the load on the alloy is small due to the small amount of deformation associated with the transformation.
Fig. 24 shows the cyclic operating characteristics of a coil spring using the R-phase transformation under a constant load. No degradation is observed after 100,000 heat cycles.
The lifetime in the transformation involving R-phase is affected by the magnitude of strain and the repeating temperature range. Fig. 25 shows the relationship between the constraining strain and the degradation of the generated force after 10,000 cycles. It is shown that when the magnitude of the restraining strain exceeds 1%, the force after the cycles decreases rapidly.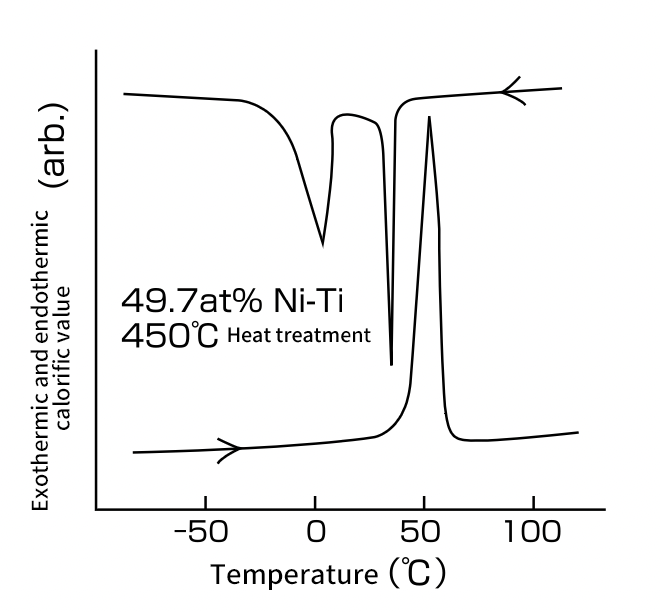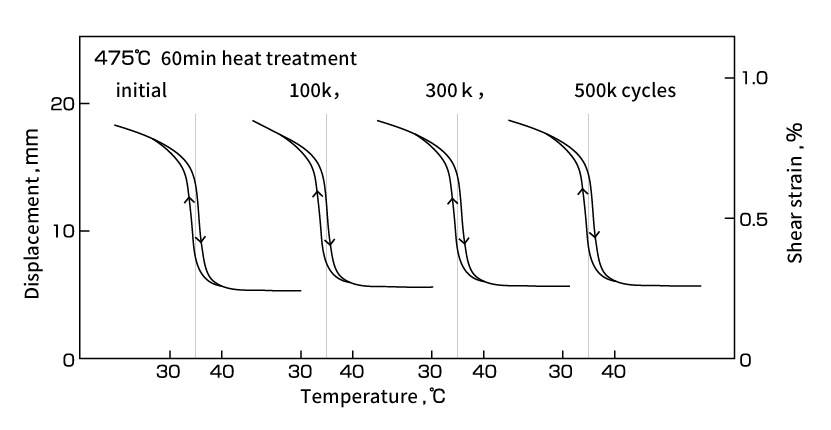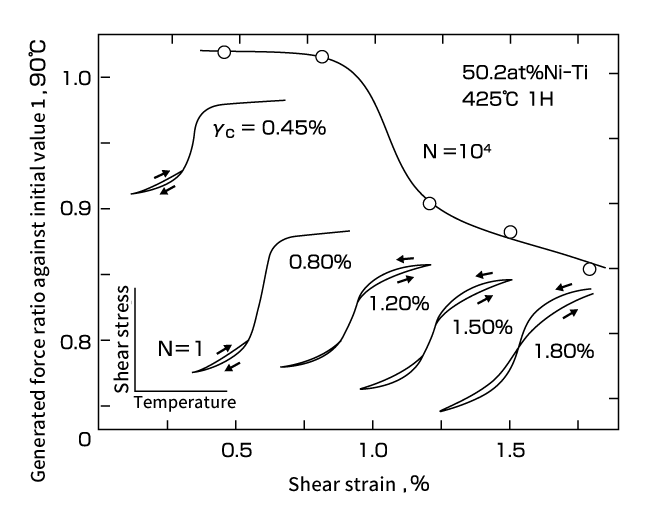 4.2 O phase transformation
The martensitic transformation in the Ni-Ti-Cu alloy is the Austenite(parent) phase to O phase (Orthorhombic structure) transformation, which has a larger hysteresis of 10-15°C compared to the R phase transformation (Fig. 26) and a slightly larger degradation by the cycles. On the other hand, as can be seen in Fig. 25, the force at low temperature is small, and the combination with bias spring is advantageous. Regarding the cyclic characteristics, Fig. 27 shows a comparison of the degradation of the generated force in typical usage, including comparison of R phase and M phase transformations.